Shakespeare has the ability to supply  a wide range of materials to suit applications across all industry sectors. We are specialists in supplying the full range of iron castings including ductile (SG iron) and high silicon iron. In addition we also supply carbon steel, ni-resist and ni-hard castings, as well as Tool steel castings.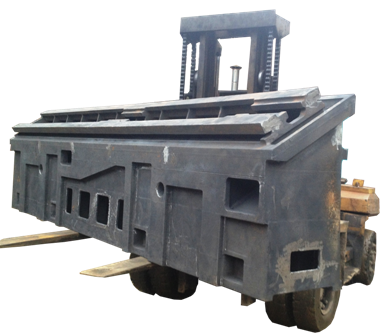 Cast Iron has a lot of attractive mechanical properties and hence is widely employed and specified by engineers for many industrial applications, as discussed below and also shown in our Industry Case Reference section. Pure iron has limited commercial value hence most commercial irons (and steels) are alloys.
An alloy is a metallic substance consisting of two or more elements intentionally mixed together; the main alloying element being Carbon (C). Other main micro-constituents include Graphite, Ferrite (pure iron), Cementite (iron carbide) and Pearlite (a mixture of ferrite and cementite). Materials with up to 2%C are classified as steels whilst those with more than 2%C are classified as cast irons, and nearly all cast irons contain free graphite.
Flake Graphite Irons
No other material offers the combination of properties and advantages of flake graphite irons, as follows:
Excellent fluidity.
Excellent machinability.
Good thermal conductivity.
Good damping capacity - better in lower grades.
Excellent resistance to sliding wear.
Low comparative cost.
Can be surface hardened.
White Cast Iron
White Cast Iron has a structure of cementite (iron carbide) and pearlite, and offers;
No free graphite.
Very hard and brittle.
Limited use for abrasion resistant applications.
Malleable irons are cast as white iron prior to annealing.
Whilst white cast iron is used for abrasion resistant applications, its properties can be further enhanced with the introduction of Nickel and Chromium. Ni-Hard has matrix of martensite and iron-chromium carbide which leads to a greatly enhanced service life.
Malleable Cast Iron
Malleable iron was developed in America at end of 19th century. This form of iron provides a range of more ductile and tougher materials, and is annealed for a minimum of 24 hours to create its superior properties.
The three types of Malleable Cast Iron are;
Whiteheart.
Blackheart.
Pearlitic
Malleable cast iron
Ductile Iron (SG or Nodular Cast Iron)
Ductile Iron was discovered independently in 1940's by Keith Millis, (INCO laboratories, USA) and Henton Morrogh, (BCIRA, UK). It is also commonly refered as SG Iron or Nodular Cast Iron and has the following advantages;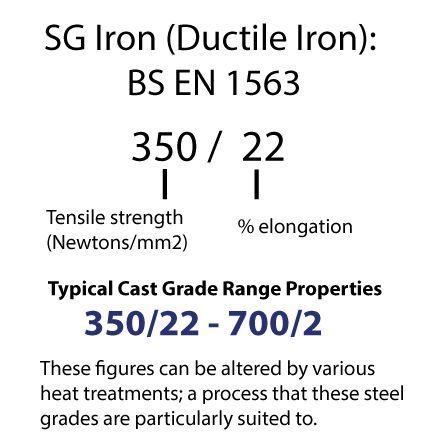 Excellent combination of properties – strength, ductility and toughness.
Tensile strengths from 400 – 800 N/mm2.
Good castability – much better than steel.
Not as section-sensitive as grey iron.
Low notch-sensitivity and good fatigue resistance.
Can be surface hardened and therefore the properties can be enhanced by heat treatment.
Shakespeare has vast experience supplying many grades of Ductile Cast Iron ranging from Automotive to Nuclear applications. Some of the common grades include;
BS EN 1563 - SG Iron / Ductile Iron - Used for Automotive press dies, Pressure containing castings, Pump castings, Bearing housings, General Engineering parts, Where greater elongation strength and impact resistance is required than is found with cast iron.
ASTM 4536 SG Iron (Ductile Iron) - An American standard for SG Iron (Ductile Iron) and is broadly equivalent to BS EN 1563 with similar uses.
ASTM A395 SG Iron (Ductile Iron)- Again, an American standard for SG Iron (Ductile Iron) specifically relating to; Valves, Pipework and Pipe Fittings
Compacted Graphite Iron
Compacted Graphite Iron was developed and patented in 1949 however it's virtues were not realised until many years later.
It is produced in a similar manner to ductile iron, however it is difficult to produce with consistent properties.
Special Purpose Irons
Special purpose irons are produced by alloying with certain elements (Cu, Ni, Cr, Si, Mn) to create Austenitic Cast Iron ('Ni-Resist') and abrasion resistant irons ('Ni-Hard'). Austenitic Cast Irons has a Austenitic matrix which is stable over a wide temperature range.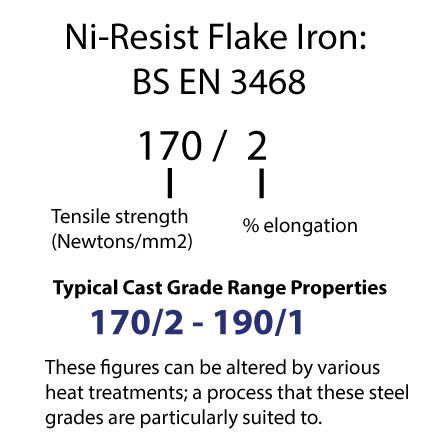 The Graphite may be either flake or spheroidal and although it is expensive to produce, it has advantages including;
Exceptional corrosion and heat resistance.
Good castability and machinability.
Good sub-zero properties – one grade fully ductile down to -196ºC.
Low coefficient of thermal expansion.
Special purpose irons are typically used for pump and valve components for the chemical industry.